INEOS STYROLUTION'S LURAN SAN C CHOSEN BY BEAR ELECTRIC FOR SMALL HOUSEHOLD APPLIANCES
INEOS Styrolution, the global leader in styrenics, announced today that its Luran® SAN C has been selected by Bear Electric, a leading brand in small domestic appliances in China, as the material of choice for its appliances including food processor, yogurt machine and filter kettle.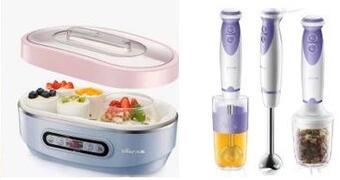 Bear Electric's small household appliances using INEOS Styrolution's Luran® SAN C (image courtesy of Bear Electric, 2022)
The Procurement Engineer at Bear Electric's Supplier Management Department says "The performance of Luran SAN C fits exactly our requirements, with its international food contact regulations compliance allowing us to expand our product footprint internationally. We also appreciate INEOS Styrolution's outstanding reputation, excellent customer service and consistent product quality."