This Halloween, trick-or-treaters can fill their bags with more than free candy. BLUETTI, a portable power station leader, has decided to give them a "Boo" before they become power-starved or their houses are haunted by blackouts. It offers a slew of special deals for power generators, batteries and solar panels along with freebies from this October 20 to November 3.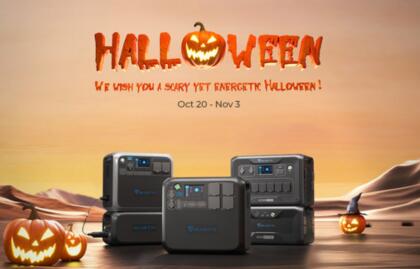 BLUETTI Halloween Campaign
"Whether people are looking to upgrade gears for camping or secure their houses with stable power supply, this is the most affordable time in recent history," BLUETTI's spokesman James Ray said.
Selective Power Stations
From the portable solar generator EB55 to the 3072Wh power giant AC300 combo, BLUETTI is providing much needed power options. Among them, BLUETTI's flagship model AC200P is an unmissable highlight. The AC200P and B230 combo is regarded as the most anticipated bundle compared to the EB150, AC200MAX and AC300 series.
New Bundles to Step Up
BLUETTI is also rolling out new battery and solar panel bundles for those who already own a power station and simply wish to beef up their solar system for power independence.