Samsonite collaborates with the Estate of Jean-Michel Basquiat
Samsonite is preparing to unveil a highly anticipated collaboration that fuses the popular C-Lite luggage series with the iconic, instantly recognizable artworks of beloved artist Jean-Michel Basquiat. Speaking to both an elevated art crowd as well as Generation Z and millennial travellers with an appreciation for pop culture, the luggage is set to be the coolest travel companion, and also a coveted collector's item to cherish for years to come.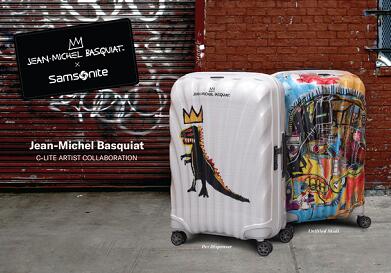 The collaborative collection, which is available worldwide in limited quantities, boasts two unique yet harmonious exterior designs – both of which mark a bold celebration of Jean-Michel Basquiat's neo-expressionism style. The first luggage style, called Pez Dispenser, features a dinosaur in a crown motif – a reference to the US candy known as "Pez" which is a symbol of pop culture. The figure is emblazoned on a minimal, crisp white background to allow the focal art to take centre stage. The second luggage style, called Untitled Skull, features a rich and textured artwork that champions an X-ray-like vision of a head's exposed upper and lower jaw. This iconic drawing clashes against multiple colours and graffiti details to create a powerful, eye-catching impact on any baggage carousel.