25Home Hits It Out Of The Park Again With Their Air Leather Pad Sofa
25Home is making a name for themselves as an affordable, Nordic-designed furniture brand. They sell their pieces right from the manufacturer to the consumer, guaranteeing the lowest and fairest prices possible without sacrificing any quality. Every piece they produce is an artful example of their designers' skill as they provide beautiful furniture fit for any home.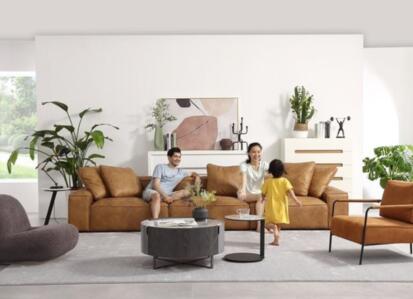 25Home.com's air leather pad sofa, superb quality but fair price
Air leather pad sofas are now available, combining the high-quality material of air leather with daring new designs. With fast shipping from their domestic warehouses, these pieces are truly just a click away.
25Home's high-quality air leather material
The new pieces are all made from 25Home's air leather. This brand-new material is an alternative to leather that stuns and provides durable quality. Both the material used to produce it and the production process are more environmentally friendly. Animal lovers can rest assured that their air leather couches cause no harm to animals when they make their purchase.
Air leather is not only environment and animal friendly, but it's waterproof, stain-proof, and wear-resistant. Ideal for homes with children or pets, it holds up to everyday wear and tear while maintaining its stylish look.
The typical maintenance and care needed for leather aren't necessary for air leather, making it easier to take care of. With the feel of a soft fabric and the breathability of cotton, air leather is the future of furniture.